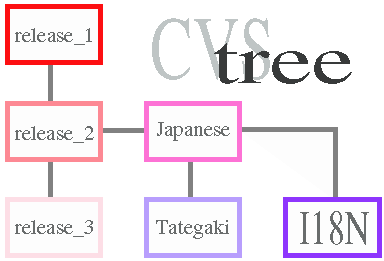 What's CVSTree?
CVSTree visualizes relations between revisions of modules in a repository using a tree style representation.
CVSTree provides a global view for a repository. It runs on GNU Emacs. There are three GNU Emacs interfaces for CVS program. PCL-CVS, VC and CVSTree. The main deference between PCL-CVS, VC and CVSTree is the operation target of the interfaces. PCL-CVS targets on file and directory sets you are editing. VC targets on a file you are editing. Against them, CVSTree targets on a repository that might contain some revisions of modules. You might use these three at same time.

News
Wed, 28 Jul 1999 00:32:19 +0900
This project is closed.
Mon Jul 12 23:33:12 1999
PCL-CVS 2.9.6 that contains the our idea, the tree representation is released.
Wed Jun 30 17:56:34 1999
CVStree will be part of pcl-cvs. I'll stop the maintenance. You'll find cvstree in the next version of pcl-cvs.
Tue Jun 29 06:31:08 1999 Release 0.2.3.

Fix bugs in cvstree-cmd-log.

Fri Jun 25 09:49:50 1999 Release 0.2.2.

Run dired after cvstree-cmd-checkout.

Fri Jun 25 04:06:56 1999 Release 0.2.1.

Insert Root to the tree buffer.

Fri Jun 25 03:15:20 1999 Release 0.2.0.

Added functions that display log of specified tagged revision.
Don't delete the header of output of 'cvs status'.
Multiple cvstree buffers

Wed Jun 23 04:38:14 1999 Release 0.1.9.
Sun Jun 20 23:15:08 1999 Release 0.1.8.

Translate comments to English from Japanese.
better 2-byte-ready checking.

Mon Jun 7 19:37:20 1999 Release 0.1.7.

Added new tree generator stubs.
Added code to highlight text for mule-19.34.
Check current-language-environment to detect 2byte or 1byte displaying.

Sat May 29 12:09:02 1999, Release 0.1.6. The cache mechanism is implemented.
Sat May 29 03:56:59 1999, Release 0.1.5. Added more stubs. e.g. cache mechanism.
Fri May 21 01:37:09 1999,

Print tag type infos. revision or brunch.
Highlight entries.
Improve the tree generator code.

Wed May 19 07:17:47 1999, Release 0.1.1. Put thre Repositry and Root at the header of the cvstree buffer.
Wed May 19 07:17:47 1999, Release 0.1. Leave from pp. Tree drawing code is implemented. The idea comes from wanderlust, a great mailer.
Wed Apr 21 04:29:51 1999, Release 0.0.1. Added definition of split-string.
Download
Links
Description of meta view of this project.
Screen shot
Cliek here.
Acknowledgment
The network resources for developing cvstree.el are provided by lilo.
---
Masatake YAMATO (masata-y@is.aist-nara.ac.jp) Last modified: Sun Feb 20 14:09:23 JST 2000
$Id: index.html.ja,v 1.2 2000/02/20 05:06:33 mizuno Exp $